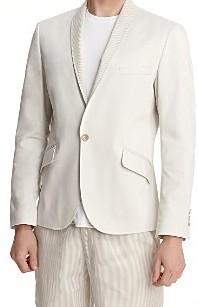 Los Angeles – Fashion Designer Micah A. Cohen has been sued by his former employer, Swarm, LLC. Cohen apparently started the clothing company as a young designer and launched the "Shades of Greige" apparel line. Swarm alleges that Cohen was employed as a fashion designer until November 13, 2009, when he "quit his job with Plaintiff."
Plaintiff contends that three weeks before Cohen left its employ, Cohen's mother, Nancy Sidonie Cohen, filed an intent-to-use application with the USPTO to register the mark "Shades of Grey" for use on clothing. In March of 2010, Plaintiff did what it should have done a long time before, i.e. filed its own trademark application to register "Shades of Greige" with the USPTO.
Plaintiff contends that Defendants' use of the mark "Shades of Grey by Micah Cohen" is likely to confuse customers. Further, "Defendants are utilizing the same designs, patterns, look, pricing, factories and sales representatives used by Plaintiff when Mr. Cohen was employed by Plaintiff, and Defendants are selling the Accused Goods to the same wholesale customers to which Plaintiff sells its goods and has developed valuable business relationships." Thus, Plaintiff asserts causes of action for trademark infringement, unfair competition, intentional interference with economic relations, breach of duty of loyalty, and declaratory judgment for withdrawal of Defendants' trademark application. The case is Swarm, LLC v. Micah A. Cohen, et al., CV10-3188 DDP (C.D. Cal. 2010).