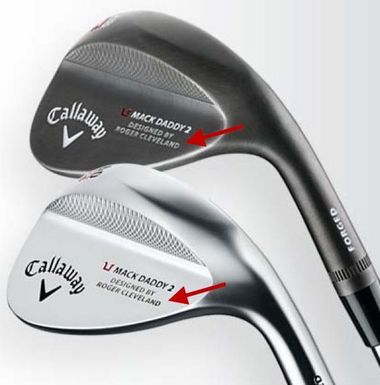 In another example of the problems caused by using your own name as a trademark (e.g., Van Halen trademark lawsuit and Joseph Aboud trademark injunction), Roger Cleveland Golf Company, Inc. and Dunlop Sports Co. Ltd. filed a trademark infringement, unfair competition, and trademark dilution case against Callaway Golf Company. In 1990, Mr. Roger Cleveland, the individual, sold all shares and ownership interest in his eponymous company but remained an employee until 1996, when he joined Callaway. Everything proceeded like a long, straight drive on the fairway until July 2013 when Callaway started using Mr. Cleveland's name to promote its golf clubs. The picture to the right, taken from Callaway's website, shows the placement of Mr. Cleveland's name on the club-head. Even though the clubs may indeed be designed by Mr. Cleveland, the use of the "Roger Cleveland" name may create a false association with or an endorsement by Roger Cleveland Golf Company.
Click here for a copy of the complaint.
Plaintiffs allege that they are the owners of several federally registered trademarks for Cleveland, Trademark Registration Nos. 2,070,054 and 2,070,051, and Cleveland Golf, Trademark Registration No. 3,286,218. Plaintiffs allege:
Defendant Callaway's use of plaintiffs' mark CLEVELAND® on its recently marketed clubs has already resulted in actual confusion in the marketplace, and is likely to mislead and confuse consumers into believing that the infringer's products originate from Cleveland Golf or are connected to or affiliated with Cleveland Golf. Plaintiffs have demanded that defendant Callaway cease making unauthorized use of plaintiffs' CLEVELAND® brand on defendant Callaway's golf clubs, but to date defendant Callaway has refused to cease and desist its infringing acts.
When your name or surname becomes synonymous with the trademarks of your previously created company, it's treacherous to start a competing business and use your name on competing products. Sardi's Restaurant Corp. v. Sardie, 755 F.2d 719, 725 (9th Cir. Cal. 1985) ("the use of one's surname is not a 'defense' to a trademark infringement action"). Plaintiffs seek a preliminary and permanent injunction preventing Callaway's use of Roger Cleveland's name on the clubs, in addition to unspecified monetary damages, attorneys' fees, and costs.
The case is Roger Cleveland Golf Company, Inc. et al. v. Callaway Golf Company, SACV 13-1642 AG (C.D. Cal. 2013).