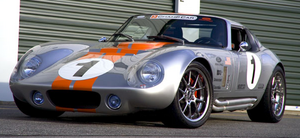 Los Angeles, CA – In response to Carroll Shelby's trademark and trade dress infringement lawsuit (details blogged here), Defendant Factory Five's attorneys filed a motion to either dismiss the case or transfer venue to the District of Massachusetts (details blogged here). Co-defendant Internet Community Partners, LLC, dba ffcobra.com, joined in Factory Five's motion.
On February 23, 2009, after the parties' oral arguments, the Honorable Christina A. Snyder granted Factory Five's motion and transferred the case to the District of Massachusetts (read the order here), the location of the parties' previous trademark and trade dress dispute in 2000.
In deciding a motion to transfer, the Court must consider the following three factors: (1) the convenience of the parties; (2) the convenience of the witnesses; and (3) the interests of justice. 28 U.S.C. § 1404(a); see Los Angeles Mem'l Coliseum Comm'n v. NFL, 89 F.R.D. 497, 499 (C.D. Cal. 1981).

In analyzing the "interests of justice," a number of factors are relevant, including the following: (1) the location where the relevant agreements were negotiated and executed, (2) the state that is most familiar with the governing law, (3) the plaintiff's choice of forum, (4) the respective parties' contacts with the forum, (5) the contacts relating to the plaintiff's cause of action in the chosen forum, (6) the differences in the costs of litigation in the two forums, (7) the availability of compulsory process to compel attendance of unwilling non-party witnesses, and (8) the ease of access to sources of proof. Stewart Org. v. Ricoh Corp., 487 U.S. 22, 29-30 (1988); Jones v. GNC Franchising, Inc., 211 F.3d 495, 498-99 (9th Cir. 2000). Other factors that can be considered are: the enforceability of the judgment; the relative court congestion in the two forums; and which forum would better serve judicial economy. 17 MOORE'S FEDERAL PRACTICE § 111.13[1][c] (3d ed. 1997).
After applying the Ninth Circuit's legal standard, the Court concluded that the case should be transferred to the District of Massachusetts pursuant to 28 U.S.C. § 1404 because "[t]he 2000 litigation was filed before the instant litigation and the two actions involve substantially similar parties and issues – the crux of both actions is Factory Five's allegedly unlawful use of the Shelby parties' marks in the marketing, sale, and distribution of its products. The 'interests of justice' are best served by transferring this case to the United States District Court for the District of Massachusetts, which has already dealt extensively with this dispute between the parties."
Because the Court granted defendants' motion to transfer venue, the Court declined to reach the merits of defendants' motion to dismiss.
The case is titled Carroll Shelby v. Factory Five Racing, Inc. et al., CV 08-07881 CAS (C.D. Cal. 2008).