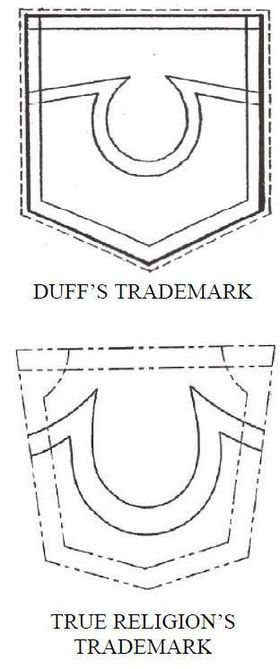 Plaintiff Philip Duff is suing True Religion jeans for copying his horseshoe pocket design that he registered with the U.S. Patent & Trademark Office in 1995, long before True Religion began using the horseshoe design on its jeans. According to the complaint filed in the U.S. District Court in Los Angeles, Duff began using the horseshoe design trademark on jeans in the mid 80's.
Duff alleges that while True Religion was developing its jeans in September of 2002, its CEO received a copy of Duff's trademark registration record from the USPTO and was fully aware of Duff's senior rights. Also, on December 10, 2003, its COO allegedly received another copy of Duff's trademark registration record. "Despite such knowledge, Defendants proceeded to use in commerce on their jeans a 'horseshoe' design that is confusingly similar to Plaintiffs' mark." Defendants are also accused of describing their trademark as a modified "U" in their USPTO trademark applications and failing to disclose to the trademark examining attorney that they were fully aware of Duff's prior registration.
Duff is asking the Court to cancel True Religion's "horseshoe" design trademark because it was obtained by fraud. In addition, Duff seeks undisclosed monetary damages for the infringement and a permanent injunction preventing True Religion's continued use of the horseshoe design. The case is Philip Andrew Duff, et al. v. Guru Denim, Inc. et al., CV10-4611 ODW (C.D. Cal. 2010).
PRACTICE NOTE: I always found it odd that in its counterfeiting lawsuits (here and here) True Religion always mentioned its design patent for the horseshoe design, but would never assert a cause of action for patent infringement. Now that it appears True Religion was allegedly aware of prior art that was not disclosed to the Patent Office, its decision to forego patent infringement claims becomes lucid.