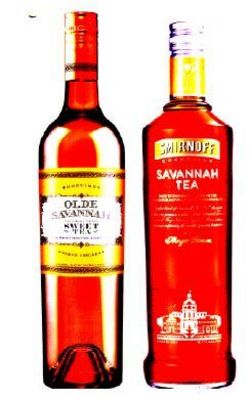 San Francisco, CA – The Wine Group has filed a trademark infringement lawsuit in the Northern District Court of California against Diageo PLC. Plaintiff sells a wine-based beverage that contains tea flavors under its Olde Savannah Southern Style Sweet Tea trademark, which it started using in December of 2009. According to the complaint, Plaintiff has sold over 29,000 cases of the beverage since December and plans on expanding the use of the mark to vodka-based beverages. In November of 2009, Plaintiff wisely filed an intent-to-use application with the USPTO prior to launching its product.
Diageo is the world's largest wine, beer, and spirits company and owns the Smirnoff, Johnnie Walker, Captain Morgan, Jose Cuervo, and Guinness brands. Plaintiff alleges that Diageo has recently introduced a vodka-based sweet tea beverage under the Savannah Tea trademark. Because Plaintiff allegedly has priority over Diageo in using the Savannah mark, it contends that "Diageo's use of the Savannah Tea mark is likely to cause confusion among consumers in a variety of ways. For example, consumers are likely to believe, erroneously, (a) that Diageo's alcohol-based sweet tea is somehow associated, affiliated, or connected with TWG's alcohol-based sweet tea, or vice-versa or, (b) that Diageo's alcohol-based sweet tea is sponsored, authorized, or approved by TWG, or vice-versa." The case is The Wine Group LLC v. Diageo PLC, et al., CV10-2879 DMR (N.D. Cal. 2010).
On a related note, it appears that The Wine Group's Savannah trademark application is the subject of an opposition proceeding filed by Spier Wines before the TTAB. The parties, however, have filed a joint motion to suspend proceedings in furtherance of settlement discussions.