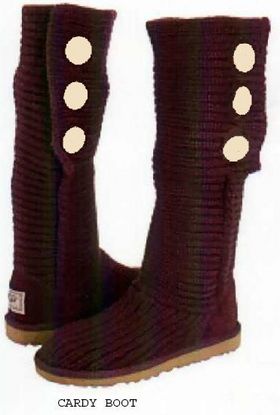 Los Angeles, CA – UGG® boot manufacturer, Deckers Outdoor, filed a patent infringement and unfair competition lawsuit against Claire's Stores and CBI Distributing. UGG® boots have set a fashion trend with young ladies wearing the lamb-skinned boots – to keep their feet and calves warm – with shorts, thereby allowing their knees and thighs to freeze. That's not in the complaint, it's just a personal observation. Now back to the regularly scheduled complaint: the UGG® line of boots includes the Classic Cardy™, which was introduced in 2007 and has a crochet upper with buttons on the lateral side. The Classic Cardy™ boot is the subject of U.S. Design Patent No. D582,650 ("the '650 Patent").
Deckers alleges that Defendants sell allegedly infringing boots under the "Claire's Botts" mark at significantly lower price points, thereby diminishing the market place for the genuine Cardy Boots™. Plaintiff's Lanham Act claim derives from the alleged sales of infringing boots creating a false association or affiliation with Deckers' UGG® line of boots.
It's unclear from the complaint whether Plaintiff is asserting a trade dress infringement claim, but at least they obtained a design patent for the boot – which is not a work protectable by copyright. By doing so, they avoid some costs and expenses in having to conduct surveys to establish trade dress rights and, further, a likelihood of confusion among consumers. The following Federal Circuit opinion provides a great comparison of the level of proof needed for each:
[T]he difference in weight given to empirical evidence is fully understandable in light of the stark differences between the elements required to show design patent infringement and trademark and trade dress infringement. … [P]urchasers' likelihood of confusion as to the source of a good is a necessary factor for determining trademark and trade dress infringement. … To show infringement, the holder of a trademark or trade dress therefore must have progressed to the manufacture and distribution of a 'purchasable' product. As a result, consumer behavior in the marketplace is a highly relevant factor in determining trademark and trade dress infringement. Since surveys and other empirical studies are ordinarily probative evidence of consumer behavior in the marketplace, such evidence has significance in determining trademark and trade dress infringement. In contrast, … a different quantum of proof applies to design patent infringement, which does not concern itself with the broad issue of consumer behavior in the marketplace. … The single element here required to show design patent infringement involves a much narrower field of inquiry. In short, a design patentee may prove infringement simply by showing that an ordinary observer would be deceived by reason of an accused device's ornamental design. … Therefore, in showing design patent infringement there is ordinarily no compelling need for empirical evidence. Braun Inc. v. Dynamics Corporation of America, 975 F.2d 815, 828 (Fed. Cir. 1992)
The case is Deckers Outdoor Corp. v. Claire's Stores, Inc., et al., CV09-09498 CBM (C.D. Cal. 2009).