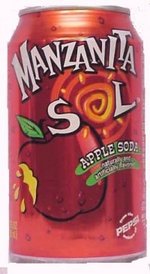 Los Angeles, CA – Pepsi's subsidiary owns the Manzanita Sol® trademark that is used on apple flavored soft drinks. Manzanita Sol® is Pepsi's second most popular brand in Mexico. Pepsi has sold in the U.S. millions of dollars worth of Manzanita Sol® sodas through its authorized bottlers.
Pepsi accuses SPE Trading of importing soft drinks manufactured in Mexico bearing the Pepsi® and Manzanita Sol® trademarks that Pepsi does not authorize for sale in the U.S. Pepsi alleges that the Mexican product sold by SPE is materially different in many respect from authorized products sold in the U.S., e.g. the Mexican product does not comply with the labeling regulations of the Food and Drug Administration. Pepsi alleges that in response to a cease and desist letter, SPE had previously agreed to stop importing and selling the gray market product. But based upon alleged recent purchases of the gray market Manzanita Sol® product, Pepsi filed the instant trademark infringement and dilution action. The case is Pepsico, Inc. et al. v. SPE Trading, Inc., CV10-6833 DDP (C.D. Cal. 2010).
PRACTICE NOTE: U.S. trademark owners can prevent the importation and/or sale of gray goods that are "materially different" from those sold in the U.S. In determining what is considered "materially different," 19 C.F.R. § 133.2(e) provides the following non-exclusive considerations: "(1) The specific composition of both the authorized and gray market product(s) (including chemical composition); (2) Formulation, product construction, structure, or composite product components, of both the authorized and gray market product; (3) Performance and/or operational characteristics of both the authorized and gray market product; (4) Differences resulting from legal or regulatory requirements, certification, etc.; [and] (5) Other distinguishing and explicitly defined factors that would likely result in consumer deception or confusion as proscribed under applicable law." Also, PepsiCo, Inc. v. Pacific Produce, Ltd., 2000 U.S. Dist. LEXIS 12085 (D. Nev. 2000) cites cases where failure to comply with FDA labeling regulations constituted a material difference.