Los Angeles, CA – Legaljiffy.com sued rival website based legal document preparation company Legalcpu.com, Inc. for copyright infringement, trade dress infringement, and state unfair competition. Legaljiffy's website has provided self-help legal documents since 2008 and is attorney-owned and operated. Defendant allegedly began its website in December of 2005, but has recently changed the look and feel of its website by copying "Legaljiffy's website, both in look, feel and by content." Defendant is alleged to have modified its website after Plaintiff declined to enter into a partnership, which partnership offer was intended to add an attorney to Defendant's ownership group.
PRACTICE NOTE: It would have been interesting to see how the Court would have ruled on a motion to dismiss Plaintiff's trade dress claim. Unfortunately, it was not part of Defendant's motion. (Read BNA article regarding the viability of website trade dress claims).
PLAINTIFF'S WEBSITE FRONT PAGE: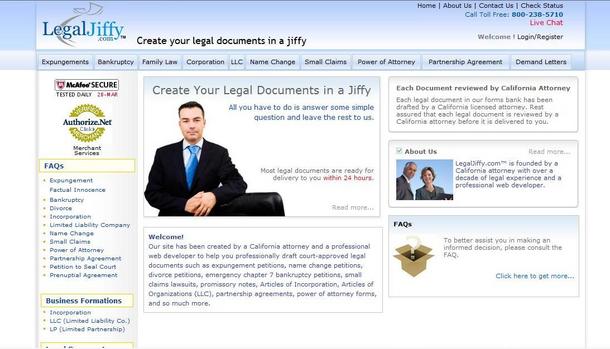 DEFENDANT'S WEBSITE FRONT PAGE: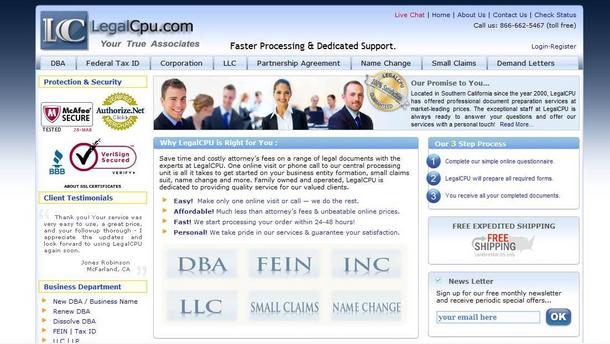 Although the complaint asserts a copyright infringement claim, it does not plead the prerequisite ownership of a copyright registration. Further, Plaintiff claims that its website is distinctive in support of its trade dress cause of action. However, the complaint fails to specifically identify which elements comprise its trade dress or which elements are inherently distinctive without requiring a showing of secondary meaning. The case is Legaljiffy.com, Inc. v. Legalcpu.com, Inc., CV 09-01867 AHM (C.D. Cal. 2009).
PRACTICE NOTE: Reviewing the front page of Plaintiff's website, nothing in its design immediately strikes me as being distinctive. Courts have not yet determined whether website "look and feel" qualifies as product packaging (which may be inherently distinctive) or product design (which requires a showing of secondary meaning). Indeed, the Supreme Court in Wal-Mart Stores, Inc. v. Samara Bros., 529 U.S. 205 (2000), noted that "[t]o the extent there are close cases, we believe that the courts should err on the side of caution and classify ambiguous trade dress as product design, thereby requiring secondary meaning." Based on the recent creation of Plaintiff's website, it would be difficult to illustrate secondary meaning. Also, although a recent District Court case in the Ninth Circuit denied a motion to dismiss a trade dress cause of action for "look and feel" of a website as preempted by the Copyright Act, Blue Nile, Inc. v. Ice.com, Inc., 478 F. Supp. 2d 1240 (W.D. Wash., 2007), another granted summary judgment of non-infringement on Plaintiff's trade dress infringement claim because Plaintiff had not shown secondary meaning in its website's pink color or two phrases posted thereon. SG Servs. v. God's Girls Inc., 2007 U.S. Dist. LEXIS 61970 (C.D. Cal. May 9, 2007).