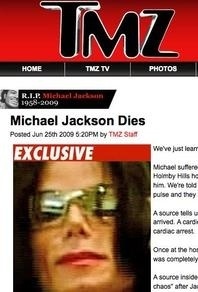 Los Angeles, CA – Celebrity gossip and news website TMZ is being sued by Marc Schaffel Productions for using copyrighted video footage of Michael Jackson's ex-wife, Debbie Rowe, without authorization. (Here's a copy of the copyright infringement complaint). Schaffel interviewed Rowe in 2003, portions of which were publicly aired in the same year. On January 31, 2004, the Santa Barbara County Sheriff's office obtained the entire footage – including confidential, never released outtakes – from Schaffel's house pursuant to a court order issued in the molestation trial.
On July 20, 2009, after Michael Jackson's death, TMZ is accused of broadcasting confidential outtakes of the interview with Rowe where she jokes about using sedation to combat stage fright. "Schaffel and Rowe were stunned and distressed that TMZ, in a misguided attempt at gallows humor, broadcast the Confidential Outtakes, attempting to tie a 2003 joke by Rowe about drug use to Mr. Jackson's tragic 2009 death from a drug overdose." Four days later, TMZ removed the footage upon Schaffel and Rowe's request and allegedly identified the Sheriff's office as the source of the confidential footage. The Sheriff's office denied the accusation and TMZ then refused to identify the source of the footage: "TMZ asserts that its status as a 'news' provider exempts it from respecting copyrights, permits it to broadcast purloined material, and insulates it from liability for lying about sources of illicitly obtained materials."
Schaffel asserts causes of action for copyright infringement and conversion under California law. The case is F. Marc Schaffel Productions, LLC v. TMZ Productions, Inc. et al., CV10-01306 GHK (C.D. Cal. 2010).