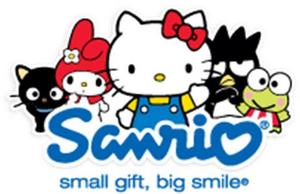 The Hello Kitty character has been around for more than fifty years and numerous other related characters and designs are protected by copyright registration certificates owned by Sanrio. In fact, Sanrio's website has a page listing all of its copyrights. Sanrio aggressively protects both its copyrights and trademarks related to the Hello Kitty characters, even suing a children's beauty pageant organizer for copyright infringement for using the Hello Kitty doll on its tiaras and trophies. Maybe that's a good thing if you've seen how much these beauty pageants charge parents for the illusion of their kid's success and to prevent exploitation. But more importantly, to prevent the next Honey Booboo from being thrust upon society. To protect myself from such a lawsuit, the image to the right displays some of the characters at issue in this lawsuit and was taken from Sanrio's website.
Defendants Blink & Blink, Inc. and its officers are accused of selling jewelry and other products that incorporate a cast of Hello Kitty characters: "This case concerns the concerted, systematic and wholesale theft of various world-famous intellectual properties owned by Plaintiff. Defendants are engaged in the manufacture, importation, distribution, promotion, sale and/or offer for sale of bracelets, rings, earrings, necklaces, and other personal accessories, which incorporate unauthorized likenesses of animated or live action characters owned by Plaintiff, including, but not necessarily limited to, Hello Kitty (collectively "Infringing Product")." The suit seeks unspecified damages, but requests that actual damages be trebled pursuant to 15 U.S.C. § 1117.
The case is Sanrio, Inc. v. Blink & Blink, Inc., et al., CV13-08948 PJW (C.D. Cal. 2013).