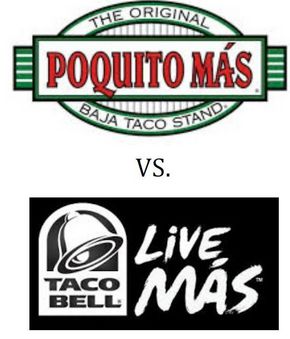 Poquito Mas Mexican restaurant is going mano-a-mano against Taco Bell over the latter's use of the "Live Mas" trademark and service marks on its restaurants, food, and beverages. Founded in 1984, Poquito Mas has more than ten restaurants in California and differentiates itself by selling high quality food, always using the freshest ingredients and freshly made salsas. It also has several USPTO registered for its family of MAS trademarks including Poquito Mas, The Mas, and Mucho Mas, among others. Because most of its trademarks have been registered for over five years, the trademarks have become incontestable per 15 U.S.C. § 1065.
Plaintiff alleges that in January of 2012, Taco Bell contacted Poquito Mas in an attempt to license the "Mas" trademark to use in its "Live A Little Mas" advertising campaign. After some discussion, however, Poquito Mas declined to license the trademark because it believed Taco Bell's slogan would diminish the Poquito Mas brand and confuse customers. Shortly thereafter, Taco Bell is accused of launching the "Live Mas" campaign despite its knowledge of the extraordinary fame and strength of the Mas trademarks: "Taco Bell is still actively using, promoting, and otherwise marketing the 'Live Mas" trademarks with the knowledge and intent that this may cause consumer confusion between Taco Bell and Poquito Mas." In addition to the trademark infringement claim, Poquito Mas asserts causes of action for false designation of origin and unfair competition under both federal and California law.
Poquito Mas seeks unspecified damages, attorneys' fees, and costs in addition to preliminary and permanent injunctions prohibiting Taco Bell's use of the Live Mas marks in its advertising. Further, because Taco Bell's knowingly infringed the trademarks, Poquito Mas asks the court to triple the damages under the Lanham Act and award punitive damages under state law.
The case is Poquito Mas Licensing Corp. v. Taco Bell Corp., CV13-1933 (C.D. Cal. 2013).