Los Angeles, CA – Copyright attorneys for dietary supplement company Iwin Labs filed a copyright infringement lawsuit, in the Central District Of California (Los Angeles Division), accusing rival nutritional company of copying its website design. The complaint asserts that in June of 2008, Iwin Labs developed and created an acai berry dietary supplement and created a website that promotes and sells the supplement. Based upon Iwin's success, the Defendants allegedly "proceeded to copy Iwin Labs' website and product labels, word for word, color for color, image for image (though at times making uninspired attempts to be 'just a little' different, but still most definitely similar enough to steal customers from Iwin Labs and wreak havoc on Iwin Labs' customer relations)." The following are screen shots of the parties' websites as represented in the complaint: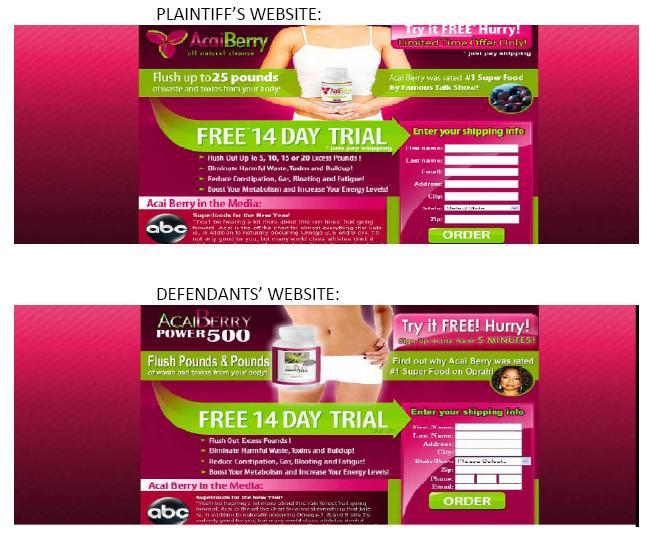 The complaint continues, "what is worse, Defendants not only copied and otherwise misappropriated Iwin Labs' intellectual property, they made an active and concerted effort to fool the public by using the exact same online marketers and advertising agents that Iwin Labs had previously used, thereby greatly increasing the probability that repeat visitors looking for the Iwin Labs website would end up on Defendants' nearly identical web pages." Plaintiff requests statutory damages under 17 U.S.C. § 504(c)(1). Plaintiff also requests that the court order the defendants to pay the costs of the lawsuit and reasonable attorneys' fees pursuant to 17 U.S.C. § 505. The case is titled: Iwin Labs, LLC v. Crush, LLC, CV08-04695 MMM (Central District of California 2008).
PRACTICE NOTE: 17 U.S.C. 504(c)(2) provides an increase in the statutory damages to $150,000.00 per infringement if it is deemed to be intentional. However, the Plaintiff's state causes of action for statutory and common law unfair competition appear to be preempted by the Copyright Act and should be dismissed.