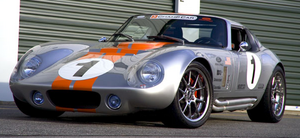 Car racing legend Carroll Shelby sued Factory Five Racing in California last year for trademark and trade dress infringement (details here). The District Court in Los Angeles granted Factory Five's motion and transferred the case to Massachusetts (details here and here). The Massachusetts District Court has now dismissed Shelby's Daytona Coupe trade dress action with prejudice (it cannot be re-filed) and has dismissed the rest of the complaint without prejudice. The Court, however, declined to dismiss Shelby's lawsuit against co-defendant Internet Community Partners, LLC – doing business as ffcobra.com. (Order is available here).
With respect to the Daytona Coup trade dress infringement claim, the Court held that it was barred by doctrine of res judicata and the terms of the settlement agreement:
In this case, the settlement agreement resolved the Type 65 trade dress claims and did not bar FFR from using the Type 65 kits, which have apparently not broadened or changed in the intervening years. Under the settlement agreement, "Shelby dismisse[d] with prejudice all claims that have been asserted or could have been asserted relative to the trade dress or designs of FFR's kits, including but not limited to the kits known as the 427 Roadster and the Type 65 Coupe." (FFR's Mem., Ex. B ¶ 9 (emphasis added).) Shelby's argument that the first suit only involved the 427 S/C contradicts the plain language of the settlement, which dismissed all claims "relative to the trade dress or designs of FFR's kits" involving Factory Five's Type 65 Coupe, not merely those relating to the trade dress of the 427 S/C. Moreover, the Final Judgment included numerous, specific references to both the name and design of the Daytona Coupe.
As to the rest of Shelby's trademark and unfair competition claims, the Court dismissed them because Shelby failed to provide proper notice and opportunity to cure as mandated by the settlement agreement, but because Factory Five alleges that it has removed all hyperlinks and metatags complained of, refiling should be futile:
In light of Shelby's failure to comply with the notice and cure provision of the settlement agreement, the remaining claims against it will be dismissed without prejudice to provide the requisite thirty day opportunity to cure and allow the parties a chance to resolve this dispute in accordance with it.
Internet Community Partners did not fare as well at this early stage of litigation, but it appears that the Court indicated that defendants have a valid First Amendment and fair use defense:
To be sure, use of a name in a forum may be in good faith or protected by the First Amendment. However, when all reasonable inferences are drawn in Shelby's favor, dismissal on that basis is not warranted at this early stage of the litigation.
The case is Carrol Shelby et al. v. Factory Five Racing, Inc. et al., 09-CV-10281-PBS (D.Mass. 2009).