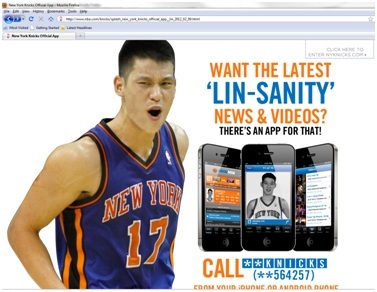 This NBA season's "LIN-derella" feel good story is New York Knicks' Jeremy Lin's fast-break rise from bench warmer to player of the week award recipient in a week. With his success, the nicknames have started pouring in faster than the 38 points he scored against the Lakers: LINsanity, LINcredible, LINvincible, LINsational, Super LINtendo, and my favorite, Duhhh LINning (à la Charlie Sheen). Lin is so popular right now that even the Knicks' page on nba.com is dedicated to Lin and his new iPhone app. Lin's popularity cannot be contested because I'm even writing about him. Well, I got carried away with all the hype.
But along with the upside of fame comes unauthorized, third-party trademark applicants. A search of the USPTO's trademark database shows an application filed only six days ago by an unrelated party, Yenchin Chang, to register the "LINsanity" trademark for use on a slew of goods including athletic uniforms, t-shirts, baseball caps and hats, etc. I hope that Mr. Chang does not expect to LIN (yes, that was bad). Trademark law prevents registration of a mark that "consists of or comprises a name, portrait, or signature identifying a particular living individual except by his written consent." 15 U.S.C. § 1052(c).
For example, the USPTO's Trademark Trial and Appeal Board affirmed the trademark examining attorney's refusal to register the trademarks "Obama Pajama" and "Barack's Jocks Dress To The Left" because applicant failed to provide President Barack Obama's written consent. In re Richard M. Hoefflin, 97 USPQ2d 1174 (TTAB 2010) [precedential]. To determine "whether a particular living person bearing the "name" would be associated with the mark as being used on the goods, we must consider (1) if the person is so well known that the public would reasonably assume the connection, or (2) if the individual is publicly connected with the business in which the mark is being used." The trademark examining attorney – unless she's been hiding under a rock this past week or is a Nets fan – should refuse registration because trademark law prevents even nicknames that identify a particular living individual from being registered without their consent.
Assuming that the trademark examining attorney is a Nets fan and does not refuse registration, all is not lost for number 17. In the trademark application process, following the examining attorney's review and approval, it is published for thirty days and any party that believes he or she may be harmed by the registration can file an opposition to prevent registration. Further assuming that Jeremy Lin misses the opposition period and the trademark registers, which is unlikely for the Harvard grad, he can still file a proceeding at the USPTO or a lawsuit in federal court seeking cancellation of the unauthorized registration.