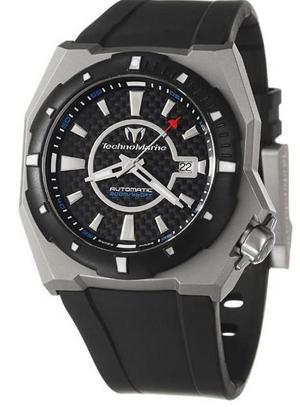 TechnoMarine is suing both Costco and Overstock.com for trademark infringement because neither is an authorized retailer of its watches, which it alleges are "either counterfeit or were obtained in bad faith from TechnoMarine's authorized retailers/distributors, who are expressly prohibited from distributing" the watches to other retailers. TechnoMarine has been selling its watches since 1997 and owns several USPTO registered trademarks for the word TechnoMarine and its T and M logo. TechnoMarine alleges hundreds of millions in watch sales by high end retailers and tens of millions of dollars in advertising through numerous renowned magazines.
TechnoMarine alleges that the sale of its watches are strictly controlled and "contractually permitted only through authorized dealers, most of which are not authorized to sell the products on the internet. All of TechnoMarine's authorized retailers/distributors have entered into agreements in which they are expressly prohibited from transshipping and selling TechnoMarine branded products to unauthorized third party retailers and online retailers." TechnoMarine's warranties are inapplicable to watches obtained through unauthorized retailers thereby reducing the quality of unauthorized products. Because Costco and Overstock are not authorized TechnoMarine watch distributors, the warranties are void and render the goods not genuine in violation of TechnoMarine's trademark rights.
This isn't Costco's first rodeo in the unauthorized watch sales arena. Costco was previously sued by Omega for copyright infringement for selling gray market watches in the U.S., meaning that Costco bought legitimate Omega watches abroad and imported them into the U.S. for resale. The Omega watch had a copyrighted glove image and Costco's sales in the U.S. constituted copyright infringement because it violated Omega's rights to distribute the work. The District Court agreed with Costco that Section 109's first sale doctrine trumped Omega's exclusive rights. The Ninth Circuit Court of Appeals disagreed, holding that the first sale doctrine does not apply to copies not authorized for resale in the United States. The U.S. Supreme Court tied 4-4, thus allowing the Ninth Circuit's decision to stand, but not resolving the split between the circuits.
Trademark law prohibits importation of gray market goods that are materially different from goods intended for the U.S. market. Material differences have been found in labeling, packaging and marketing methods, caloric content, container volume, and warranty. See Societe Des Produits Nestle, SA v. Casa Helvetia, Inc., 982 F.2d 633, 638 (1st Cir. 1992).
The cases are Technomarine SA v. Costco Wholesale, CV12-00930 JFW (C.D. Cal. 2012); and Technomarine SA v. Overstock.com, Inc., CV12-00932 MMM (C.D. Cal. 2012).