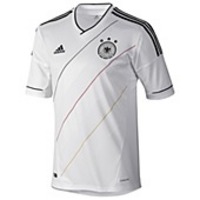 Adidas is suing numerous apparel, clothing, and shoe sellers for trademark infringement, unfair competition, trademark dilution, and counterfeiting, including two defendants that previously settled similar allegations and are now accused of breaching the settlement agreement by continuing to sell allegedly infringing sportswear. Adidas is the owner of numerous U.S. Patent & Trademark Office registrations for its famous Three-Stripe trademark including Trademark Reg. No. 2,058,619 for shirts, Trademark Reg. No. 3,029,127 for sweatshirts, jackets and coats, Trademark Reg. No. 2,278,591 for shorts, and Trademark Reg. No. 1,815,956 for shoes, which consumers readily associate with Adidas. The complaint alleges:
adidas recently learned that Defendants are offering for sale and selling apparel bearing counterfeit and confusingly similar imitations of adidas's Three- Stripe Mark. Specifically, Defendants blatantly have copied adidas's Three-Stripe Mark to trade off of the goodwill and commercial magnetism adidas has built up in its mark. Defendants' actions are misleading and confusing the public, diluting adidas's famous mark, and irreparably harming adidas's goodwill and reputation. Accordingly, this Court should issue a preliminary injunction.
To obtain preliminary injunction in a trademark infringement case, the plaintiff must show that (1) it is likely to succeed on the merits, (2) it is likely to suffer irreparable harm in the absence of preliminary relief, (3) the balance of equities tip in its favor, and (4) the injunction is in the public interest. Marlyn Nutraceuticals, Inc. v. Mucos Pharma GmbH & Co., 571 F.3d 873, 877 (9th Cir. 2009).
Adidas contends that it is likely to succeed on its trademark infringement, unfair competition, and trademark dilution claims because the trademark registrations establish ownership of the trademarks and the knock-off goods present a likelihood of confusion. Because it can show a likelihood of success on its trademark claims, Adidas relies on Ninth Circuit authority establishing a presumption of irreparable harm. GoTo.com, Inc. v. Walt Disney Co., 202 F.3d 1199, 1209 (9th Cir. 2000). Adidas argues that Defendants' intentional infringement causes irreparable harm and outweighs defendants' harm of being prohibited from selling counterfeit goods. Finally, Adidas states that consumers would be protected from confusion caused by the infringing goods.
The case is Adidas America, Inc. et al. v. Soccer and Soccer, Inc. et al., CV13-7148 GW (C.D. Cal. 2013).