Los Angeles, CA – Magician Yigal Mesika filed a patent infringement lawsuit at the Federal District Court in Los Angeles – no magic here – through his attorneys. I thought the magician's code was to never reveal their secrets. Maybe I'm wrong because Mesika filed a patent application for his invention and was issued U.S. Patent No. 7,311,609, entitled "Miniature Spooling Apparatus." The patent generally relates to a miniature electrically powered thread reel and spooling mechanism discretely hidden inside a pen. There goes the secret. The pen is used by magicians in routines requiring "invisible" thread to control small objects and the "Electric Spider Pen" is sold through authorized magic shops and websites.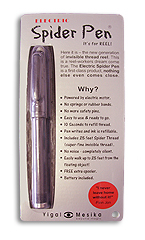 Magic seems to be a popular legal topic lately, including a motion in limine to prevent opposing counsel from performing magic tricks during closing arguments (article here). And now back to our regularly scheduled legal magic programming:
Defendant Bogunia sells an "iThread" product which allegedly infringes on one or more claims of the '609 patent. In addition, Defendants are set to release a modified product called the "iThreadX," which is also believed to infringe. In May of 2008, Plaintiff informed Defendants of their allegedly infringing activity and attempts were made to settle the matter. When negotiations went up in a cloud of smoke, Plaintiff filed this lawsuit. Don't worry, that was my last pun for now. I am saving "Defendant Magician To Make Lawsuit Disappear" pun until a motion to dismiss is filed. The case is titled Yigal Mesika v. Sean Bogunia et al., CV09-1580 JFW (C.D. Cal. 2009).