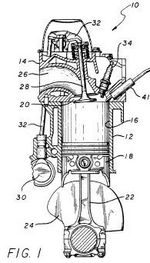 Santa Ana, CA – Kruse Technology has filed a patent infringement suit against Defendants Daimler AG; Mercedes-Benz USA, LLC; Detroit Diesel Corporation; Freightliner Corporation; Western Star Truck Sales, Inc.; Volkswagen AG; Volkswagen Group of America, Inc., Audi of America, Inc.; Ford Motor Company; Cummins Inc.; and Chrysler Group LLC. The Defendants are accused of manufacturing engines that infringe U.S. Patent Nos. 5,265,562, 6,058,904, and 6,405,704. The '562, '904, and '704 patents are all entitled "Internal Combustion Engine With Limited Temperature Cycle", but have different claims.
The complaint, however, does not appear to provide sufficient information to pass a Rule 12 motion to dismiss. In 2007, the Supreme Court's Twombly decision stated that under Rule 8(a)(2) a plaintiff's obligation to provide the grounds for relief "requires more than labels and conclusions, and a formulaic recitation of the elements of a cause of action will not do." Bell Atlantic Corp. v. Twombly, 550 U.S. 544 (2007). In 2009, the Supreme Court's Iqbal decision expanded the application of Twombly to all civil cases. Ashcroft v. Iqbal, 129 S.Ct. 1937 (2009). Thus, a complaint will be dismissed uner Rule 12(b)(6) if it fails to meet the Twombly pleading standard. See e.g. Anticancer, Inc. v. Xenogen Corp., 248 F.R.D. 278 (S.D. Cal. 2007)
The case is Kruse Technology Partnership v. Daimler AG, et al., SACV-10-1066 AG (C.D. Cal. 2010).