Los Angeles, CA – Medieval Times USA, Inc. unsheathed its sword and commenced a trademark infringement, Lanham Act false advertising, and unfair competition battle against Alcatraz Media, Inc. Since 1983, Medieval Times has operated Medieval-style castles where it hosts dinner tournaments, complete with a king, a princess, and jousting knights. Although the knights nobly protect the castle, Plaintiff has turned to the USPTO to protect its Medieval Times® trademark through registration.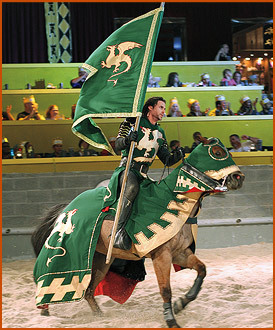 Defendant Alcatraz Media is accused of operating numerous websites, including www.medievaltickets.com and www.viptickets.com, which are used to sell tickets to Plaintiffs' dinner and tournament events. The websites are allegedly designed to confuse consumers into believing they are purchasing tickets directly from Plaintiffs. For example, the websites allegedly have links to separate webpages for each of Plaintiffs' castles, including images and textual descriptions thereof.
Also, the complaint accuses Defendants of advertising tickets for Plaintiff's events at artificially inflated prices, and then providing artificial "discounts" from the inflated prices. Including the discount, Plaintiffs allege that consumers are charged more than they would have been charged by Plaintiffs for the same tickets. As a result, Plaintiffs allege that irate customers have demanded – and received from Plaintiffs – refunds after attending the show and realizing they were overcharged. Further, Plaintiffs contend that consumers were sold "upgrades" by Defendants without Plaintiffs' knowledge or receipt of payment, which Plaintiffs were forced to honor. Additionally, when Defendants no longer have tickets to Plaintiffs' shows, they have allegedly falsely advertised that the shows were "sold out," even though tickets were directly available from Plaintiffs. Plaintiffs allege that Defendants know that their conduct is unlawful because they were found liable in a civil action entitled Maid of the Mist Corporation v. Alcatraz Media, LLC, 06-CV-714 ODE (N.D. Ga. 2006), involving Defendants' similar misconduct. Order available here.
Plaintiffs further complain that Defendants have purchased the Medieval Times® mark as Google keywords and have embedded the same as metatags on Defendants' websites. The case is Medieval Times USA, Inc. et al. v. Alcatraz Media, Inc. et al., CV 09-2111 MRP (C.D. Cal. 2009).