Los Angeles, CA – Trademark attorneys for Red Bull filed a lawsuit at the Federal District Court in Los Angeles alleging trademark and trade dress infringement, unfair competition under the Lanham Act (15 U.S.C. § 1125), and trademark dilution. The complaint asserts that since Red Bull's introduction in 1996, over four billion units have been sold in the United States and over one billion dollars have been spent on advertising, marketing and promoting the Red Bull energy drink. Red Bull has obtained trademark registrations at the U.S. Patent & Trademark Office for the its word marks in addition to the trade dress in its can designs.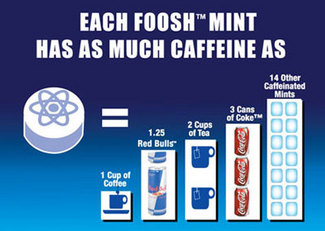 The Defendants manufacture and sell chocolate mint chews bearing the "Buzz Bites" trademark and mints bearing the "Foosh Energy Mints" trademark. Red Bull is not concerned about the word marks used by Defendants, but alleges that the Defendants' use of Red Bull's trademarks and trade dress in Defendants' advertising and on Defendants' website and vending machines "is likely to cause confusion before and during the time of purchase of defendants' products because purchasers, prospective purchasers . . . are likely to be drawn to defendants' products because they mistakenly attribute [defendants'] products to Red Bull." Red Bull sent a cease and desist letter to Defendants, but Defendants have allegedly refused to cease the use of the Red Bull trademarks and trade dress. The case is titled Red Bull GMBH v. Vroom Foods, Inc. and Mad Dog Energy Products, CV08-04960 GAF (C.D. Cal. 2008).
PRACTICE NOTE: A competitor can assert the nominative fair use defense to protect its ability to use a trademark to refer to a trademark owner or its goods or services for purposes of reporting, commentary, criticism, and parody, as well as for comparative advertising. To qualify for the nominative fair use defense, the following three requirements must be met: (1) the trademark owner, product, or service must not be readily identifiable without use of the trademark; (2) the defendant must use only as much of the mark as is necessary to identify the trademark owner, product, or service; and (3) the defendant must do nothing that would suggest sponsorship or endorsement by the trademark owner. From the facts asserted in the complaint, the Defendants will probably interject a comparative advertising fair use defense, because they are comparing the caffeine content of their product and that of Red Bull. It appears that the first and third elements of the test are met, but the defense will probably turn on whether the second element of the test is satisfied – i.e. did Defendants use more of Red Bull's trademarks/trade dress than was necessary to make the comparison?