UPDATE 11/20/2008: The Court dismissed the patent infringement case with prejudice because the parties settled. Each party bears its own attorneys' fees and costs.
Los Angeles, CA – Patent attorneys for Patent Category Corporation ("PCC") filed a patent infringement lawsuit at the Federal District Court in Los Angeles, accusing Easton Sports of infringing three PCC utility patents. PCC is the assignee of the inventions covered by U.S. Patent No. 6,357,510, entitled "Collapsible Support Frames," U.S. Patent No. 6,604,537, entitled "Collapsible Structures," and U.S. Patent No. 6,758,003, entitled "Collapsible Structures Supported On A Pole." The patents generally relate to flexible structures that are foldable and comprise support nets, which, in one preferred embodiment, may be used in practicing sports.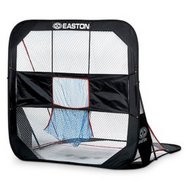 The complaint alleges that Easton Sport's five foot pop-up multi net (pictured herein) and seven foot catch net infringe on the patents-at-issue. "PCC has been damaged by Easton's infringement of each of the patents-in-suit in an amount to be determined at trial. Furthermore, by these acts, Easton has irreparably injured PCC and such injury will continue unless Easton is enjoined by this Court." The case is titled Patent Category Corporation v. Easton Sports, Inc., CV 08-04617 DDP (C.D. Cal. 2008).