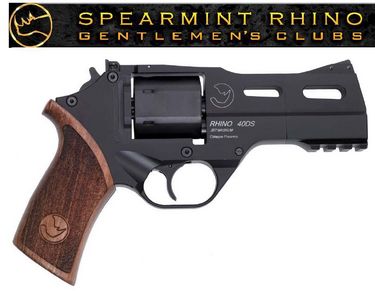 Spearmint Rhino provides adult entertainment services, namely, it owns a large number of strip joints. In its sanitized complaint, however, "Rhino's principal business is the development and licensing of its trademarks and the maintenance of control of the quality of goods and services offered in connection with Rhino's marks." As a side note, Rhino probably receives numerous applications for the position of quality control supervisor, but I digress.
Rhino owns several federally registered trademarks for its Rhino Outline logo, here, here, and here, that were filed on February 3, 2006. Thus, Rhino contends that its "registrations give it and its authorized licensees priority throughout the United States over any use in commerce of the Rhino Outline marks that had not commenced by February 3, 2006."
Although the registrations cover goods and services in the adult entertainment industry, e.g. cabarets and "panties, g-strings, brassieres and corsets for semi-nude and erotic dancers," Rhino sued Chiappa Firearms for allegedly using a confusingly similar Rhino design on its handguns: "Chiappa's use of the Rhino Outline marks is likely to cause confusion, or to cause mistake, or to deceive because, among other reasons, consumers are likely to believe that there is an affiliation, connection, or association between" Rhino and Chiappa. Seriously? Maybe I'm a bit daft, but will consumers really confuse panties and guns?
Whatever Rhino's belief, counsel should've advised that this is a very difficult case to prove because guns and strip clubs are unrelated . . . wait, except when Stephen Jackson's involved. If Rhino owned a copyright on the work, there would be more of a case. But where the goods or services are so unrelated, confusion among consumers is highly unlikely. Even the Trademark Examining Attorney did not believe that there would be a likelihood of confusion between the parties' marks because Chiappa's own rhino logo registered without a bump. Marco Randazza, in his own delicate way, always asks that clients show restraint before sending cease and desist letters or filing lawsuits with nebulous trademark claims.
The case is Spearmint Rhino Companies Worldwide, Inc. v. Chiappa Firearms, Ltd., et al., CV11-05682 R (C.D. Cal. 2011)