Before last week's release of Twilight Saga: Breaking Dawn Part 1, a trademark and copyright infringement lawsuit saga dawned on clothing manufacturer B.B. Dakota over the pictured Bella Jacket. Summit Entertainment, the producer of the Twilight franchise that has raked in more than $1 billion in gross revenues, owns several USPTO trademark registrations for the "TWILIGHT" and "BELLA" trademarks, including for use on clothing and jewelry. Summit of course also owns all copyrights in the movies in addition to marketing and publicity materials and the "Bella Trading Card Image." Summit's licensing of the intellectual property rights has grossed an additional $63 million.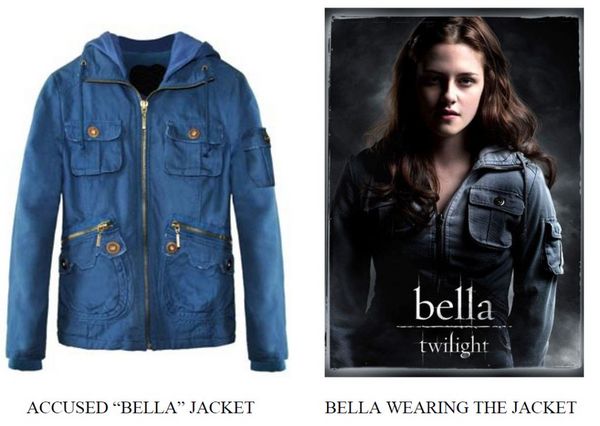 Defendant BB is a clothing manufacturer that sold the pictured women's cargo jacket in 2006 under the "Leigh" mark, which was discontinued in 2008. When the Leigh jacket was worn by Bella in the 2009 Twilight movie, BB was credited as the manufacturer in an Entertainment Weekly article accompanying a photograph. BB's outside public relations contractor then contacted Summit's manager of national publicity requesting permission to re-publish the EW image on its website, which she included in an email link to EW's website. Summit's representative responded with a simple "OK." A few days later, BB requested permission to allow for a retail store to use the image, to which Summit responded with one word: "sure".
Without seeking further permission, however, BB created "hangtags" for the jackets that included not the Entertainment Weekly picture, but an image of Bella wearing the jacket that Summit had used to promote posters, clothing, and other merchandise. Apparently, BB's own PR rep warned BB to obtain permission to use the new image, but BB failed to heed the warning and argued that by including "As seen in the Twilight movie" language on the tag would constitute fair use. Thus, BB's sales representative emailed the image to two hundred of her sales accounts representing that BB had permission to use the image on the hangtag and to publicize the product. The retailers in turn sent out email blasts using the Bella image with the belief that BB had properly licensed it. Summit sent cease and desist letters to BB's retailers, after which BB instructed them to cut the hang tags from existing inventory and provided a substitute picture of a girl resembling the Bella character. To make matters worse, BB continued to refer to the jacket as the "Twilight jacket."
Metropark, one of BB's retailers, filed bankruptcy and ModCloth settled the matter. BB countersued Summit for trade dress infringement and unfair competition. Summit filed for summary judgment of liability on its trademark and copyright infringement, and trademark dilution claims and on BB's counterclaims.
Continue reading " Twilight's Bella Swan Wins Trademark and Copyright Infringement Lawsuit Over Jacket " »