Los Angeles, CA – Following the trend of fashion designers filing trade dress infringement lawsuits to protect designs not covered by copyright law, Jeffrey Campbell is suing Forever 21 for allegedly copying six shoe designs. Like Givenchy v. BCBG and Marc Jacobs v. Christian Audigier before it, Jeffrey Campbell is forced to use trade dress law to protect its designs because copyright law views fashion products, for example pursues and shoes, as useful articles that cannot be copyrighted. Unlike UGG, however, many fashion designers are unaware that fashion designs can be protected through design patents, which must be filed within one year of the design's public disclosure. Without a design patent, Jeffrey Campbell must now attempt the tougher climb of proving trade dress infringement.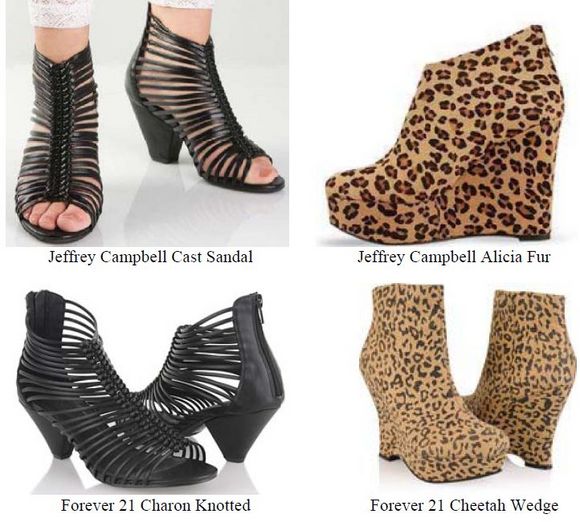 Jeffrey Campbell claims that its shoe designs "have become the footwear brand to know in the United States" over the last ten years and that customers, based on extensive marketing and advertising, recognize the shoe designs as Jeffrey Campbell's trade dress. Plaintiff contends that Forever 21, "having a business model that . . . focuses on selling knockoffs or cheaper copies of products designed by higher-end fashion companies," has intentionally copied the Cast Sandal, 99 Boot, Splendid Sandal, City Wrap Boot, Alicia Fur Boot, and Swansong Sandal. Jeffrey Campbell also asserts that Forever 21's intentional copying violates federal and state unfair competition laws. The amount of monetary damages are currently unknown to Plaintiff, but it is also seeking a permanent injunction to prevent Forever 21's future sales of the shoe designs.
The case is Jeffrey Campbell LLC v. Forever 21, Inc., CV11-04619 SJO (C.D. Cal. 2011).