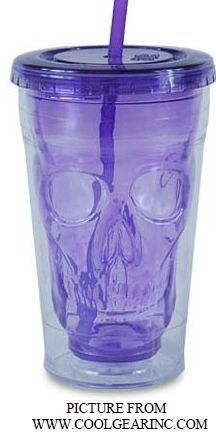 Cool Gear filed a copyright infringement lawsuit against Spencer Gifts and Spirit Halloween Superstores for selling cups incorporating Cool Gear's three-dimensional skull covered by its copyright registration. The skull qualifies as a three-dimensional work of visual art and is entitled to copyright protection and registration. Indeed, Cool Gear is the owner of U.S. Copyright Registration No. VA 1-876-232 for the work titled "Three Dimensional Representation of A Skull." The complaint alleges:
Defendants, without the permission or consent of Plaintiff, have manufactured and sold, and continue to manufacture and sell, a plastic tumbler product with a three-dimensional skull insert that is substantially identical to the Copyrighted Work (the "Infringing Work"). . . In doing so, Defendants have violated Plaintiff's exclusive rights of reproduction and distribution. Defendants' actions constitute infringement of Plaintiff's copyrights and exclusive rights under copyright law.
It seems like Halloween season scares up a new Halloween themed lawsuit every year, including 2011's Power Rangers Halloween costume trademark and copyright infringement lawsuit. Plaintiff seeks preliminary and permanent injunctions preventing defendants' sales of the accused cups, in addition to unspecified monetary damages, attorneys' fees, and costs.