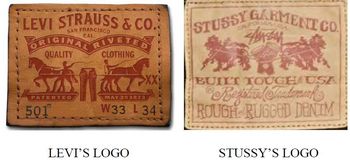 Levi Strauss & Co. has been making jeans forever and owns some of the earliest trademarks registered at the U.S. Patent & Trademark Office. The trademarks at issue involve Levi's two-horses pulling on a pair of jeans design, one of which (pictured to the right) Levi's began using in 1886 and registered in 1980. Levi's contends that its two-horse design trademarks are famous and recognized around the world based on Levi's extensive marketing and volume of sales for over one-hundred years.
Stussy is accused of using a two-horse design trademark on a leather patch affixed to jeans and shirts that is confusingly similar to Levi's registered trademarks. Based on the similarity of the two design trademarks, it's not surprising that Levi's is steaming up Stussy's tail. Levi's alleges the striking similarity of the trademarks can only lead to one conclusion: that Stussy's infringement is will and intentional, thereby warranting trebling the amount of Levi's damages and Stussy's profits. Levi's seeks unspecified damages, but requests an award of its attorneys' fees in addition to an injunction prohibiting Stussy's use of the two-horse design trademark.
Although there appear to be no opposed decisions involving Levi's two-horse design trademark, Levi's has successfully litigated and prevailed on its back-pocket stitching design trademarks. See e.g. Lois Sportswear, USA, Inc. v. Levi Strauss & Co., 799 F.2d 867, 871 (2d Cir.1986). This should be an extremely quick horse race to the finish, i.e. settlement.